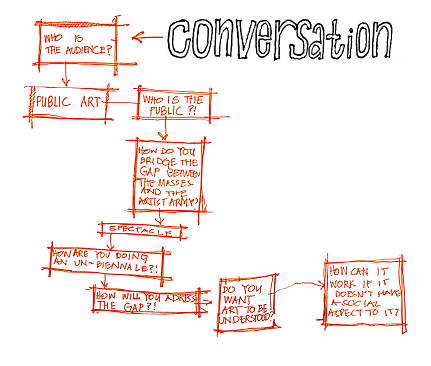 "Conversation" is one of the three key components of the inaugural Lahore Biennale, the other two being Research and Mapping. A series of discussions were initiated by the Lahore Biennale01 curatorial teamengaging creative individuals from a diverse set of disciplines: art, literature, design,music, law. Namely Ali Sethi, Zeb Bangash, Jibran Nasir, Mohsin Hamid, Quddus Mirza, Ali Raza, Hamra Abbas and Risham Syed, IftikharDadi andAttiq-uddin Ahmed. Various questions and concerns were analyzed and dissected.
Introduction to the Lahore Biennale 01:
The inaugural biennale is envisioned as an ever-evolving process rather than a product. At the very core of the curatorial premise lies questioning, rethinking and reinventing existing Biennale formats, dispelling the concept of "one grand exhibition", and exploring fully the artist/public and gallery/public space dichotomies. To this end, it seeks to analyse the idea of "function" in art and consequently questions the role of art, artists, as well as art practice. With an all-encompassing outlook, using Lahore merely as the point of departure, the aim is to soften all kinds of boundaries: conceptual, spatial, temporal, societal, as well as institutional. To achieve this, Lahore Biennale 01 will explore the intersection of art and its social context by inciting dialogue amongst practitioners, academics and thinkers from diverse disciplines, and through new commissions from some of the world's most engaging artists, both established and emerging
Objectives of Conversation: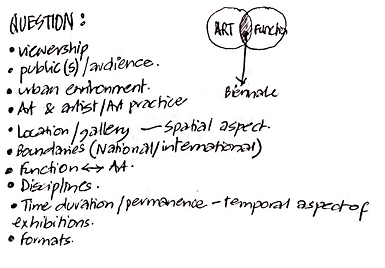 To bring forth a Biennale "without walls", or an "Un-Biennale", in the words of Rashid Rana, Conversationis one of the many such processes that contribute to the overarching objective. Conversation seeks to connect with potential participants and audience with the foremost aim to familiarize them with the curatorial premise, and to spark a series of discussions that would serve to enrich and broaden the curatorial vision. To this end, Conversation strives to be flexible and interdisciplinary; the aim is to engage a diverse set of professionals from varied fields of study, with each discussion serving as a probe for further thought. With critical discourse, discussion and debate at its core, Conversation seeks to function not as a prelude or postscript to the event; rather, a co-existing mechanism that initiates systems of experimental debate, both locally and internationally.
Conversation has taken the shape of a series of closed discussions with individuals from various disciplines. Along with this the Introductory Seminar as part of the symposium"City in Context" was yet another conversation in the series, on a larger scale. As the first public introduction to the Lahore Biennale 01 in Pakistan, it was designed as an interactive session that deliberately erased the stark audience/panel boundary and brought the two together in a setting that was conducive to participation and debate. The aim was to discuss the curatorial premise along with the larger questions that it entailed about art, artistic discourse and the status quo.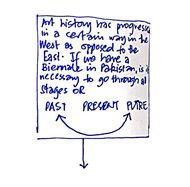 "We don't need democracy in art…" – Quddus Mirza
 "Ideas are beyond time andlocation... I am expanding a conversation trying to get some of my ideas across, creating a parameter where I can safeguard these ideas to some extent, I don't want to control the extent, and it will depend on the artists/participants how they go about it." – Rashid Rana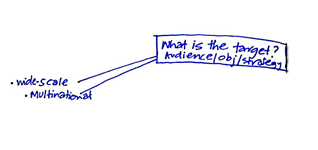 "More than the audience the word target is more appropriate, what is the target?" – Quddus Mirza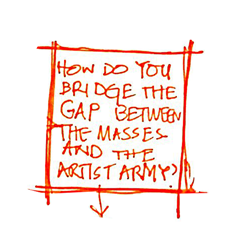 "De-familiarize Lahore" – IftikharDadi

"After much deliberation, I am trying to move away from the word art… it is a very self-conscious premise" – Rashid Rana