EVENTS HOSTED BY ARTNOW
February 7th, 8th, 9th 2014
Beach Luxury Hotel, Karachi
ART SECTION
KARACHI LITERATURE FESTIVAL
ArtNow presents the first ever dedicated art section at Karachi Literature Festival, featuring talks, exhibitions, an art book reading corner, and art giveaways.
April 25th, 26th 2015
ART SECTION
ISLAMABAD LITERATURE FESTIVAL
The ArtNow Art Section at the 3rd Islamabad Literature Festival will feature two full days of lively debate on significant issues in South Asian art history and emerging practices in the contemporary art of Pakistan.
The series of conversations, book launches, exhibitions and various other events provide a venue for artists, writers, and publishers to feature their works and display publications. Top Pakistani artists, curators, writers and other art professionals of international renown have been invited to participate.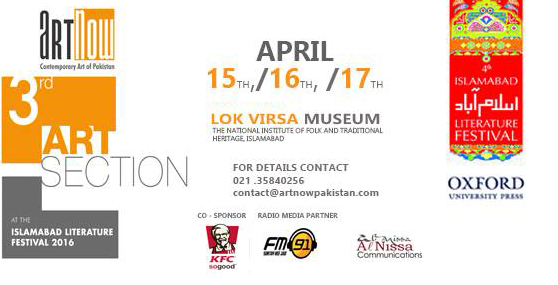 April 15th, 16th, 17th 2016
3rd ART SECTION
ISLAMABAD LITERATURE FESTIVAL
Venue: Sadequain Media Hall, 4th Gate, Lok Virsa
Exhibition: 'Invisible Cities' curated by Nadia Batool Hussain
ArtNow is a resource for the study and analysis of contemporary Pakistani art, both within the country and its diaspora. Through the magazine, readers are able to contextualize Pakistani art in the global framework. ArtNow reflects and documents the zeitgeist of Pakistan, viewed through the lens of contemporaneity, engages with artists and their praxes and establishes a forum for theoretical debate within Pakistan and abroad. We offer insights and critical perspectives on the evolving state of contemporary art, investigating concerns addressed by visual artists across disciplines and mediums.
In addition to the magazine, ArtNow has a regular series of event programming. ArtNow introduced dedicated Art Sections at the Karachi and Islamabad Literature Festivals in 2013 and 2014 respectively, featuring talks, exhibitions and book launches on the topic of contemporary art. Along with bringing art to such large public venues, ArtNow also organizes exhibitions and regular lectures and discussions featuring prominent artists, critics, and other key figures in the Pakistani and international art world as part of our Springboard Series. ArtNow's programming also includes Gallery Trek, which takes connoisseurs and collectors on a tour of galleries with the goal of introducing an art-loving audience to contemporary works.
EVENTS AT FOMMA TRUST
Thursday, October 18th, 2012
Talk with artist Bani Abidi at FDAC
Tuesday, March 12, 2013
Lecture by Marjorie Hussain- Pioneers of Art in Pakistan
followed by Performance art piece titled 'Construction-Deconstruction' by SLOWSPIN, Dynoman & Danial Hyatt.
March 16th 2013 (7 weeks)
'Art Path: Art classes for children'
fun-filled journey through art history at the park for children between the ages of 4-10 years.
 Friday April 12th, 2013
Discussion with Fatima Sultan, Director of Zanbeel Art.
[Zanbeel Art is a nonprofit South Asian cultural resource organization based in Los Angeles. Zanbeel bridges cultural boundaries by providing exposure for established and emerging South Asian artists and conducting a variety of art-related educational outreach programs in the US and South Asia. ]
May 2013
Indus Valley School of Art students-Sharjah to Dubai|A Visual Journey
followed by"Accumlation", a performance and installation by Zeerak Ahmed and Abdullah Tariq Khan, which ran simultaneously in Paris, France and Karachi, Pakistan.
Friday, September 20, 2013
Talk with Quddus Mirza| Art and Other Ideas
Wednesday, November 14th, 2013
Talk with Laura Egerton – Curator, Abraaj Capital Art Prize ; in association with VASL and FOMMA Trust.
[The Abraaj Capital Art Prize in its first five years, has grown to be the art prize for artists from the Middle East, North Africa and South Asia to gain recognition, and produce new, ambitious artworks.]
Exhibition: A project of Child Aid Association in collaboration with HBL Foundation
featuring the winning posters created by school children depicting the harmful effects of tobacco.
May 15th 2014 till May 17th 2014
MIND OVER MATTER
Mind Over Matter explores the element of repetition which is often found in the visual vocabulary of an artist. The exhibition opened May 15th 2014 till May 17th 2014 at the FDAC, showcasing a diverse range of works in mixed media by young contemporary artists from Karachi. Participating artists: Azmeena Alladin, Sikander Athar Butt, Quratulain Qamar Choudhry, Marium J. Kamal, Nimra Khan, Hamida Khatri,Mahmil Masood, Sundus Talpur, Fariha Taj.
Held at FDAC on 16th May 2014
ART EDUCATION IN SCHOOLS AND COLLEGES|Talk by Nargis Khalid
Prof.Nargis Khalid is an artist and art educator with a Masters in Art Education from Rhode Island School of Design, USA. She has taught in several universities and colleges and had solo and group shows in the US, Middle East and Pakistan. She discussed contemporary issues in art education, including methods for enhancing classroom learning and developing creativity amongst students.
The talk was followed by a brief Question and Answer session.
Thursday, June 5, 2014
VASL and CCE |Creative Partnerships Project
A collective exhibition of the, collaborative project between Vasl and CCE, 'Creative Partnerships Project 2014′  went up on Thursday, June 5, 2014, at FOMMA DHA Art Centre, Karachi. Video and art made by children from 7 different schools within Karachi were on display. The event commenced with a talk where each artist spoke about their experiences with the students and was followed by a question and answer session and refreshments.
June 10th, 2014
CHUGHTAI REVISITED| Talk by Inam Khawaja
Event took place on 10th June 2014 at the FOMMA DHA Art Centre (FDAC)
The talk was based around 'Who was Chughtai?' Learning about the life and background of the writer, poet and artist. Along with understanding the details of his unique technique and its origin along with the term 'Chughtai Art'.Discovering the unknown works of Chughtai and experiencing a never before seen side of the artist.Featuring a discussion on 25 Hindu theme paintings,30 paintings representing Chughtai Art and 10 paintings/etchings of modern themes.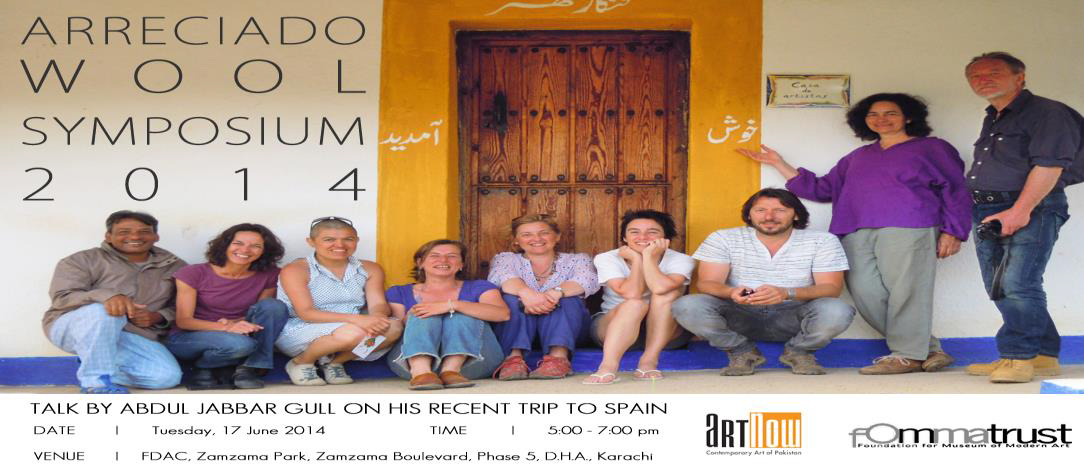 June 17th, 2014
ARRECIADO WOOL SYMPOSIUM| Talk by artist Abdul Jabar Gul
The objective of the symposium was to offer a "thinking outside the box" opportunity, away from one's studio and routine, in the company of other artists and with the freedom to investigate, with a new medium. Out of 8 participating artists, sculptor Abdul Jabbar Gull was invited to represent Pakistan. An informative talk was held at the FDAC on 17th June 2014 where he shared his experience with the audience via a photographic presentation.
September 17th – October 29th 2014.
A series of film screenings: 'PLAY ; art films' at the FOMMA DHA Art Centre from the 17th of September through the 29th of October. Every Wednesday from 7-8pm.
The 'Treignac Projet', represented by Abdullah Khan is collaborating with the DEL/SER project in the curation of the film series at the FOMMA DHA Art Centre. The curatorial approach for the films is navigated through either their seminal status or their visual/conceptual/aesthetic relevance to the DEL/SER project series.
October 22nd, 2014
BOOK LAUNCH: RAFIQ AZAM – ARCHITECTURE FOR GREEN LIVING
Held at the Movenpik Hotel on Wednesday 22nd October 2014. FOMMA Trust presented the book launch of Rafiq Azam – Architecture for Green Living, the first-ever monograph on contemporary architectural practice in Bangladesh, dedicated to international award-winning architect Rafiq Azam.
27th to the 30th of January 2015
AN EXHIBITION OF ARTISTS FROM PESHAWAR
FOMMA Trust curated an exhibition featuring 7 artists from Peshawar, showcasing over 30 paintings executed in various styles and mediums. The participating artists were Abbas Ali, Abdur Rehman Baba, Dr. Ghulam Shabbier, Jehanzeb Malik, Sajid Ali, Tayyeba Aziz & Zakir Ali. Each artist has shown at various group and solo shows within the country and abroad.
The aim of this exhibition was to bring together an exemplary array of art works from Peshawar and promote the visual artists and their talents.
BEZELS OF WISDOM- SUMAYA DURRANI
An exhibition of the artists digital prints and a presentation on her site specific work at the FDAC. The event was graced by DHA Administrator Brigadier Zubair Ahmed  who showed keen interest in not only the artwork on display but the efforts by the FOMMA Trust in bringing art and culture to the park area. He looks forward to a continued relationship between FOMMA Trust and the DHA Authorities promoting art within our society.
 15,16th,17th– 22nd,23rd,24th– 29th, 30th & 31st May 2015
BARAF PANI
Baraf Paani is an original theater and film piece that seeks to explore and usurp gender norms, cultural values and urban identity. The piece is firmly rooted in Karachi, and as an extension of the city- it jumbles between art and chaos. The piece combines projections, archival footage, soundscape and movement to create a fully immersive experience for the audience.
5th, 6th & 7th June 2015
KARACHI CITY OF LIGHTS FESTIVAL  
The Citizens Archive of Pakistan (CAP) and I AM KARACHI present Karachi City of Lights Festival, a celebration of the performing and visual arts that hopes to evoke memories of the city's yesteryears.
The festival showcased interactive exhibits combining photography, music, games and oral histories to immerse visitors in the captivating history and heritage of Karachi.
CAP also organized its signature 'Tribute to Qissa Khwani (Storytelling) Bazaar' sessions.
Each evening of the festival featured performances such as special storytelling sessions for children, poetry recitals and improvised theatre that revolve around Karachi's compelling history, culture and art.
Wednesday 11th November 2015, 5pm-7pm
ORIGINS
Curatorial statement: The art in ORIGINS explores the beginning of the artist's individual narratives. It stems from exploring their personal spaces and materials around them, cultivating relationships and exploiting aesthetics.
Participating artists: Anam Ashraf, Shaheen Jaffrani, Warda Memon, Kulsoom Sajjad, Shanzay Subzwari, Samreen Sultan, Yasser Vayani, Subika Yusuf and Samra Zamir.
Friday, 4th December 2015
Au-delà
Changez Basir, Danial Hyatt, Sara Pagganwala & Zeerak Ahmed
Au-delà is a four-person exhibition of sculptural furniture, mixed-media installation and performance art. The audience is invited to interact with geometric forms and movements that are mapping and constructing the (dis) order of 'accidental and meaningful' spaces.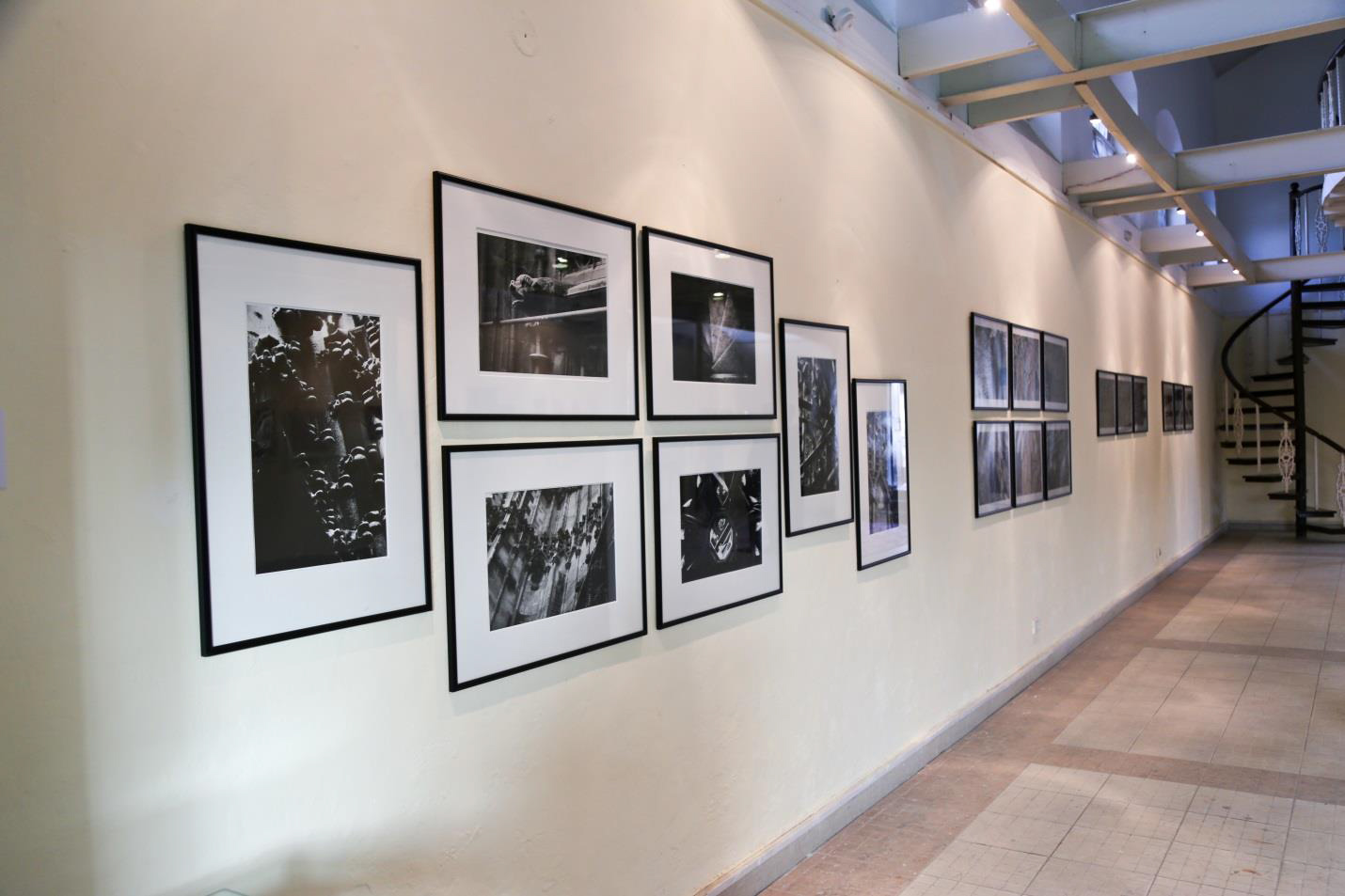 Friday, 11th December 2015, 5.00pm-7.30pm
ART & PHOTOGRAPHY- AN EXPERIENCE FROM AUSTRIA
Featuring the works of Renald Deppe and Silvia Maria Grossman.
Tuesday 17th May 2016, 5:30pm-7:30pm
CARTE BLANCHE
FOMMA Trust (Foundation for Museum of Modern Art) presents an exhibition featuring 11 young contemporary artists who are recent graduates from the Indus Valley School of Art & Architecture.
Curatorial statement: The art in Carte Blanche stems from the artists desire to create without any restrictions or themes. The artists have the freedom to delve into their process and produce work that nurtures thought provoking discourse or present itself based solely on aesthetics.
The participating artists are Ammara Jabbar, Anum Ashraf, Hira Khan, Maliha Saleem, Maryam Arslan,
Maryam Zaidi, Rabia S. Akthar, Rabia Ali, Rabia Farooqui, Sarah Mir & Shahana Afaq.
Sunday 5th June 2016, 3 pm-7pm
TRI-VENETO: PICTURES FROM THE NORTH EAST OF ITALY
In collaboration with the Italian Consulate Karachi, a series of photographs based on the North East of Italy curated by Alessandro Rosani on display. Special guest opening by Silvia Boreale.
Alessandro Rosani started experimenting with photography in 1960 with black and white first and, later, colour. Between 1970 and 1997, he completed his empirical knowledge with a solid theoretical base as a self-taught photographer, which he considerably expanded via specialised books and magazines. Alessandro favours landscapes, travel, sports and street photography. Alessandro's works have been awarded national and international prizes, such as the first prize at International Politzer 2009 and the Carmen Crepaz Cup 2010.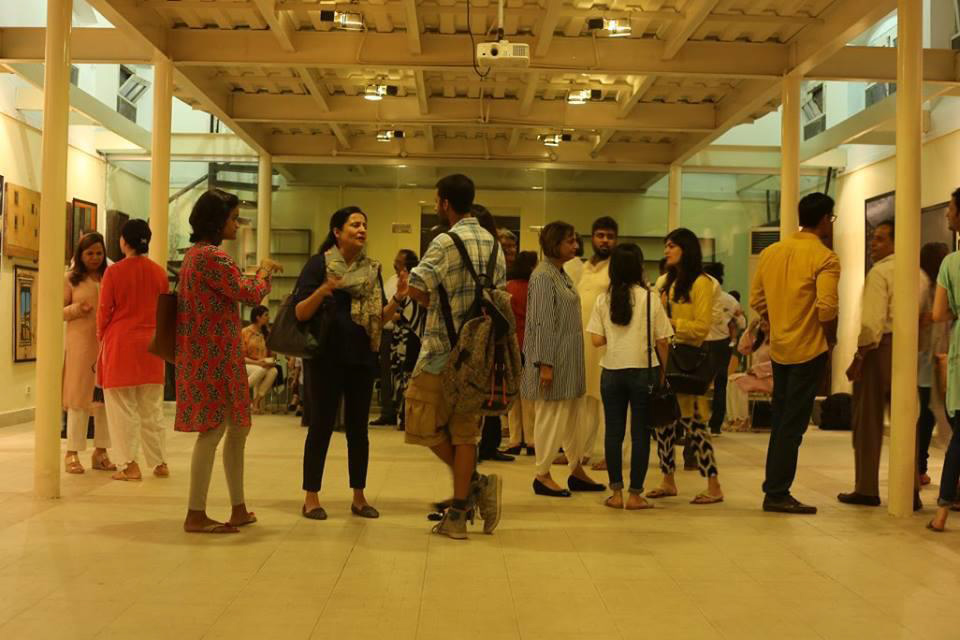 Tuesday 4th October 2016, 5:00pm-7:00pm
IMITATION OF LIFE
FOMMA DHA Art Centre, Zamzama Park, Zamzama Boulevard, Phase V, DHA, Karachi
FOMMA Trust (Foundation for Museum of Modern Art) presents an exhibition featuring 3 dynamic young artists/photographers titled 'Imitation of Life'. The artists are Haseeb Amjad, Jaffer Hasan and Nazia Akram.
Curatorial statement: From portraits to still life and landscapes, photographers and artists can mimic and adapt artificially constructed portrayals in a new light. The aim of the exhibition is to elicit feelings of association and familiarity from the viewers, focusing on photography as not only a medium but as a point of reflection from where art stems.
Akram's work is a voyeuristic journey combining nostalgia and the essence of time. Amjad's work in contrast captures the serene beauty of a fleeting moment with the nuance of a trained eye.  Hasan employs a mixed media effect to his photographs, focusing on a play of colors and technique from which emerges a blend of abstraction and reflection.
14th October 2016 at FOMMA DHA Art Centre
ART SABKA? PAKISTANI CINEMA REFLECTED
Matteela Films presente an art exhibition curated by Adnan Madani.
Friday 21st October 2016, 5:00pm-7:00pm
HE SAID. SHE SAID
FOMMA DHA Art Centre, Zamzama Park, Zamzama Boulevard, Phase V, DHA, Karachi
FOMMA Trust (Foundation for Museum of Modern Art) presents an exhibition featuring the works of Sophia Balagamwala & Safwan Subzwari.
Sophia Balagamwala has a Bachelors of Arts (BA) in Visual Art and Political Science from the University of Toronto, and a Masters in Fine Arts (MFA) from Cornell University. She is a visual artist and the Curator at the Citizens Archive of Pakistan.
Safwan Subzwari is a multidisciplinary artist from Karachi, Pakistan. After completing his BFA in Filmmaking from Columbia College Hollywood, Los Angeles he moved to Pakistan where he continues to work in art, film, and music. He has exhibited his work at collective art shows in Karachi and Dubai as well as illustrated for several children's books.
Balagamwalas works explore the space where history meets fiction and nonsense. She employs a visual language that is inspired by children's books and political caricatures. Subzawaris work is a visual commentary on culture. He enjoys studying and exploring societies dealing with an identity crisis in a globalised world.
Thursday 22nd December 2016, 5:00pm-7:00pm
LULLABY
FOMMA Trust (Foundation for Museum of Modern Art) presents an exhibition featuring the works of Marium Kamal & Safwan Subzwari.
After receiving her BFA from Indus Valley School of Art and Architecture, Marium Kamal ventured on various careers paths until she finally realized that she could only find peace in doing all the things she loved; film, art, music and fashion. Apart from her work as a prac-ticing fine artist, she is currently running her own clothing line Dot by Mariumk, teaching film and managing the career of an upcoming music duo.
Safwan Subzwari is a multidisciplinary artist from Karachi, Pakistan. After completing his BFA in Filmmaking from Columbia College Hollywood, Los Angeles he moved to Pakistan where he continues to work in art, film, and music. He has exhibited his work at collective art shows in Karachi and Dubai as well as illustrated for several children's books.
'Lullaby' is a collaborative dialogue between two artists. It is an in-depth exploration of fear. Taking inspiration from nightmares to the fear we live with every waking day Safwan Subzwari, an illustrator, and Marium Kamal, a text-based artist, combine their styles for a monochromatic celebration of fear. 'Lullaby' is not about exposing fear as an antagonist but rather an embrace to the emotion. An emotion we must learn to befriend.
Saturday January 7th 2017, 4:30pm
AN INTRODUCTION TO AGA KHAN MUSEUM TORONTO BY CEO/DIRECTOR HENRY S. KIM
FOMMA DHA Art Centre, Zamzama Park, Zamzama Boulevard, Phase V, DHA, Karachi
FOMMA Trust (Foundation for Museum of Modern Art) presented 'An Introduction to Aga Khan Museum Toronto by CEO/Director Henry S. Kim'. The event commenced with a presentation followed by a question-answer session and hi-tea.
 Wednesday, 15th February – 19th February 2017, 5:30 pm.
Therapy Through Art – Exhibition of Art works by the patients of Karwan-e-Hayat.
FOMMA Trust (Foundation for Museum of Modern Art), in collaboration with KeH (Karwan-e- Hayat) is holding an art exhibition, "Therapy through Art"- An exhibition of works by the patients of Karwan-e-Hayat. It comprises of paintings created by the patients who are undergoing rehabilitation at KeH.  The purpose of the exhibition is to create awareness about mental illness, and to bring to light that timely treatment of people with mental illnesses can reinvigorate them back into the society as productive individuals.
Karwan-e-Hayat is a non-profit welfare organization that has been providing treatment and rehabilitation services to poor and underprivileged mentally ill patients in Pakistan for the past three decades.  These services include consultation, hospitalization, medicines and meals provisions to the patients.  Aside from being pioneers in psychiatric care, KEH is also one of the few organizations who are Shariah compliant, ISO 9001-2015 certified and have registration with the Pakistan Centre for Philanthropy (PCP) for provision of quality psychiatric services.
Monday 20th March 2017, 5:30pm.
The Grandeur Of Makli
FOMMA (Foundation of Museum of Modern Art) DHA Art Center, in partnership with Heritage Foundation of Pakistan, presented an exhibition focused on the grandeur of World Heritage Makli, Thatta.
The Heritage Foundation, a not-for-profit, social and cultural entrepreneur organization established in 1980,documents and conserves the traditional and historic built environment of Pakistan in order to create an awareness of Pakistan's rich and diverse historic architecture, arts and crafts, and to promote cultural heritage for social integration, peace and development.
The exhibition aims to display how conservation of the 16th c. Tomb of Mirza Jan Baba will help create dialogues between local communities, their cultural heritage, as well as folk traditions.
Titled 'Restoring Cultural Heritage to its Past Grandeur', the exhibition aims to showcase how conservation of the 16th c. Tomb of Mirza Jan Baba will help create dialogues between local communities, their cultural heritage,as well asfolk traditions.
"Through such exhibitions we hope to foster communities' engagement with rich legacy of cultural heritage and vernacular traditions of Pakistan," commented Architect Yasmeen Lari, SI HI Fukuoka Prize Laureate, Chair and CEO, Heritage Foundation of Pakistan.
On display will be the zero-carbon footprint, fuel-efficient Pakistan Chulah (double stove) as well assamples of kashi (glazed ceramics)being practiced by the mendicant women living in the shadow of the World Heritage.
As the rehabilitation of the tomb of Mirza Jan Baba was supported by Germany, the exhibition will be opened by Consul General Rainer Schmiedchen.
"I am really thrilled about this exhibition," remarked Fawzia Naqvi, Honorary CEO of FOMMA. "It is like bringing Makli to Karachi; it will be a memorable experience."
Wednesday 5th April, 2017, 5:30 pm to 7:30 pm.
KARACHI ART SUMMIT 2017
Fomma Trust (Foundation for Museum of Modern Art) in collaboration with Karachi Art Summit presented an art exhibition on 5th April, 2017. This exhibition is comprised of sculptures and site-specific art installations by three renowned artists of Pakistan, namely Muhammad Zeeshan, Sophia Balagamwala and Mujataba Asif.
The purpose of this exhibition is to bring forth Pakistani artists and innovators from around the city to present their artworks in public spaces in order to adorn their city, Karachi. It also aims to highlight Pakistani art and to provide a chance for general masses to interact with art regardless of what backgrounds they belong to.
Thursday, April 13th 2017, 5:30 pm
INTERNATIONAL WATERCOLOUR PAINTINGS EXHIBITION
Exhibition of watercolour paintings by international artists that has travelled from Rome to Karachi and later Jamshoro, Portugal and Fabriano.
Opening Reception on Thursday 13th April 2017, 5:30 pm.
The exhibition will go on until 15th April 2017
FOMMA DHA Art Centre, Zamzama Park, Zamzama Boulevard, Phase V, DHA, Karachi.
FOMMA Trust (Foundation for Museum of Modern Art) in collaboration with The Consulate of Italy and Artciti is pleased to announce the "International Watercolour Paintings Exhibition."
Italy is a Country in which art and culture, in all their forms, are highly regarded, and the Consulate of Italy in Karachi is always supportive of all the cultural activities which can bring our peoples together.
The international exhibition on watercolour that we are displaying here in Karachi is on a journey, which started in Rome, and after Karachi will continue to Jamshoro, then Portugal, and finally Fabriano, again in Italy.
The number of pieces of art and of artists involved in this exhibition is really impressive, and it shows that a technique like watercolour, with its long tradition and history, is very much contemporary, in its ability to capture different moments of life.
This exhibition is important to preserve the memory of this great collective efforts, but I hope it will also help more and more people to get closer to watercolour paintings in general. I therefore invite everybody, not only artists and art-lovers, to spend some pleasant time wandering through the different images, because very often the journey takes place in our minds.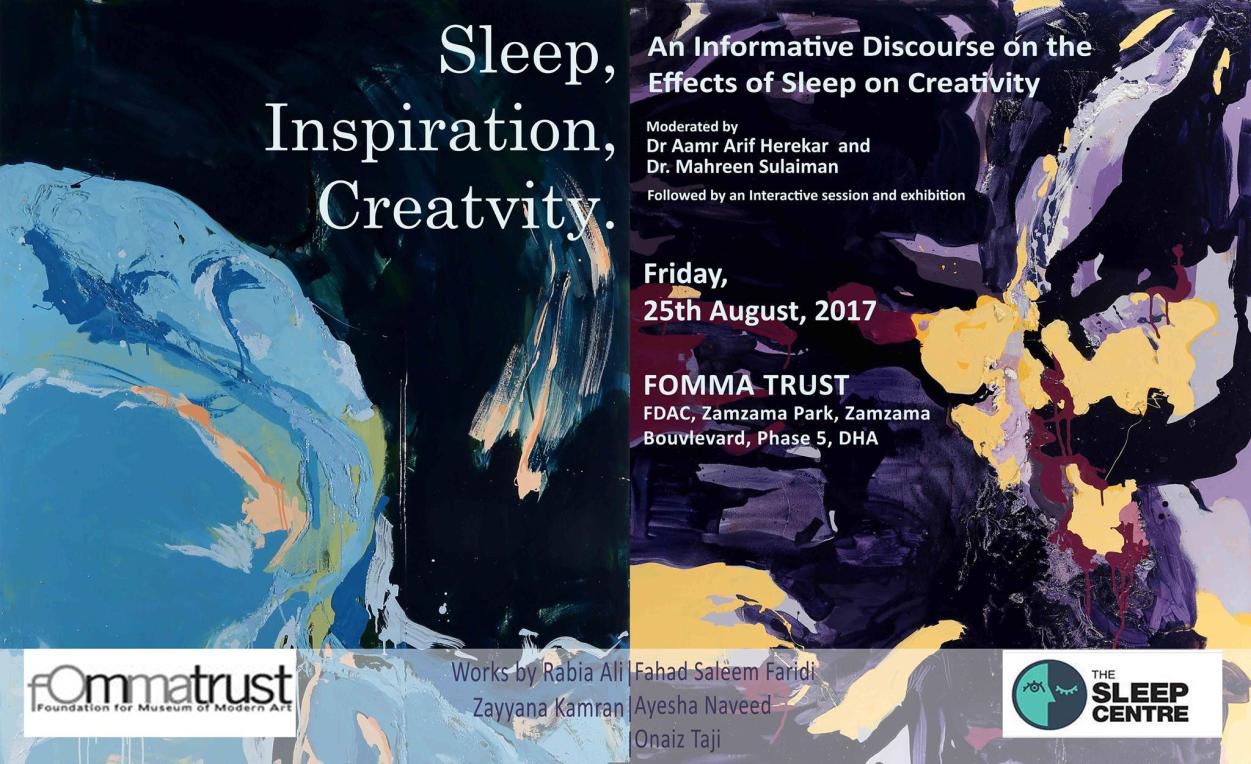 Tuesday, August 22nd 2017, 5:30pm
SLEEP, CREATIVITY AND INSPIRATION
FOMMA TRUST in collaboration with The Sleep Clinic presented,
'Sleep, Inspiration, Creativity'
An Informative Discourse on the Effects of Sleep on Creativity.
Moderated by Dr. Aamr Ali Herekar and Dr. Mahreen Sulaiman.
An interactive session with the audience will follow as well as an exhibition by emerging Pakistani Talent, namely:
Rabia Ali
Fahad Saleem Faridi
Zayyana Kamran
Ayesha Naveed
Onaiz Taji
September 15th 2017, 5:30pm
Expression works by Asad Kamran
A 23-year-old artist from Karachi, Asad Kamran is currently enrolled at the University of Edinburgh where he studies Architecture. He draws his inspiration from his ever evolving life circumstances and allows his paintings to become a cathartic response to his thoughts.
He has tried a few times, to determine the fate of his canvases before he puts paint on them. However, this has not always translated to true expression. Instead, he now allows the paintings to develop organically. His process is instinctive and impulsive, allowing him to express himself without constraints. The resulting paintings are a collective expression of all that he feels in the moment when he is faced with the canvas.
Having had multiple shows in Karachi and most recently in Istanbul, Turkey his works have been described as 'intuitive, gestural, and whimsical'.
His latest show, "Expression" is a series mainly focusing on abstract portraiture, where the artist gives his multiple thoughts a face. His medium of preference is acrylic overlaid with fidgety strokes of charcoal and dust.
 Sunday 22nd October – 5th November 2017, 10am – 6pm
KARACHI BIENNALE
KB17 was Pakistan's largest international contemporary art event that will take place every two years in Karachi. This October, over 140 artists from Pakistan and across the globe will respond to a common theme: WITNESS.
FOMMA was one of the twelve venues in Karachi.
Chief curator Amin Gulgee conceptualized KB17 exhibitions with performances, screenings, and dialogue for charting new movement through familiar spaces. KB17's two-week long, free public exhibition at 12 venues was an occasion to participate in an aesthetic, intellectual, and emotional survey of the city.
The idea of our collective witnessing was to disrupt the limits of our spatial imagination. KB17 was an occasion to revisit our histories, rethink our present, and reimagine our future with greater optimism.
21st Nov – 22nd Nov 2017, 11:30am to 8:00pm.
The Art of Mental Health by The Exhibit-Basic Needs Pakistan
Arts and Crafts Exhibition depicting a journey of people suffering from mental health challenges, their road to recovery and skills and livelihood development. The arts and crafts have been designed and created by such individuals.
Basic Needs Pakistan enable sustainable livelihood of communities by combining health and socio-economic solutions with better policy, practice and resource allocation.
The Day 1 of Exhibition ended very well. People from different disciplines visited and appreciated the work displayed by BNPAK.
January 13 – 28th, 2018
EST & UTC + 5
Ten Collaborative Projects by Twenty Artists
Named after the technical time zones where the artists are located, EST & UTC +5 brings together 10 artists from Philadelphia, Pennsylvania, and 10 artists from Karachi, Pakistan, in an effort to connect across time and space through the universal language of art.
Immersed in a world where technology aims to increase communication and connect us, we often find ourselves alienated. Considering this paradox, EST & UTC +5 is an attempt to use creative collaboration to foster interpersonal and cross cultural connections. In October 2017, ten artists, writers, designers, performers, and makers from Philadelphia and ten from Karachi were matched into partners like modern day pen pals. Throughout the next few months, each of the 10 pairs embarked on an independent, personal exchange to get to know each others' lives, work, and context with the ultimate goal of creating a collaborative work of art. Based on shared interests and dialog, each pair outlined parameters for their joint project, considering what 'local' means to each of them, and how much of that 'local' could be transported to each other, both assisted and limited by their only form of communication: text, images, and the occasional phone call or video chat. Within the timeline of this project, the artists would never meet. Their entire relationship would exist online, through an exchange of emails, text messages, Skype conversations, and social media posts, separated by a ten hour time difference.
January 19th, 2018.
ARTNOW HI TEA AT FOMMA TRUST
ArtNow hosted a Hi Tea for all the Artists, Gallery owners, Curators and Art collectors, in order to develop a stronger link with the art fraternity and art enthusiasts.