Imran Mir: 'Twelfth Paper on Modern Art' Exhibition
Book Launch: What You See Is What You See
17 December 2014
A book launch and memorial for the late Imran Mir took place on Wednesday, 17th December 2014, at his studio house. The memorial marked the publication of his book, What You See Is What You See, and speakers Niilofur Farrukh, Shahid Abdulla, Hameed Haroon, and the artist's son, Kenan Mir, paid tribute to their late friend and colleague. The speakers reminisced on his unique artistic oeuvre, his commercial success as a leading designer and advertiser, and an individual who refused to settle for mediocrity and urged all those surrounding him to do the same. The discussion was followed by an exhibition of his latest works, from the Twelfth Paper on Modern Art, upstairs in his spacious, airy studio. The works on display were large-scale explorations of form, meditations on matter dissolving and reforming, and were complemented by sculptures conveying similar themes.
Read more about Imran Mir in ArtNow
In Conversation with Imran Mir, by Haajra Haider Karrar
Farewell to Imran Mir, by ArtNow
---
A few words from the artist:
I would like to think of this book launch as a party to which I have invited a few of my very dear friends, all of them highly regarded in their respective creative disciplines. They have followed my work over the years and have rejoiced in my creative output.
Artist Bio
Imran Mir (1950-2014) was an artist, sculptor, designer and advertising trendsetter whose innovations shaped his persona and influenced his peers.
Mir thrived on challenges and enrolled in art school defying family and social norms. After graduating from CIAC (Central Institute of Arts and Crafts Karachi) in 1971, he left for Canada and studied at the prestigious Ontario College of Art and Design, working multiple jobs to support himself. When he returned to Pakistan in 1978, Mir exhibited cutting-edge art that confused art critics because they had never seen such a bold example of minimalism and modernism up close and refused to accept what they did not understand. However, as the years passed, Mir came to be acknowledged as the artist who dared to experiment with color and planar fractures, both with a temerity that not many artists could balance with grace.
This need to reject convention and reconstruct it into something dynamically extraordinary was Imran Mirs guiding principle. It was an idea of constant evolution and change that he lived by. He chose to call his work Papers on modern art, considering each body of work as serious as writing a theoretical paper. Hence, the First, Second, Third and so on — till his last Twelfth Paper on Modern Art.
Imran Mirs enthusiasm was a constant in all activities no matter how trivial or monumental from gardening to making installations, to creating award-winning ad campaigns or travelling or enjoying food on the streets of Karachi. Being a trailblazing designer, he shed light on the importance of a strong design aesthetic within the world of business and made it easier for graphic artists and designers that followed him to grow their field. In fact, he set up the very first design unit for a leading publication house, winning the INPA (International Newspaper Publication) awards while he worked there. Among other acclaims, he has been dubbed the premiere design guru of Pakistan.
Along with a group of like-minded artists and architects, Mir was the moving spirit behind the Indus Valley School of Art and Architecture in Karachi and was one of its founder members. Imran was also involved in an effort to set up the first Museum of Modern Art in Pakistan. He was actively involved in establishing The Citizens Foundation among other philanthropies. Alongside his passions, he has also been responsible in building some of the most iconic Pakistani brands we know and use today: MCB, Habib Oils, Meezan Bank, IGI Insurance, Dawn News, Shan Masala, Tapal Tea, One Potato Two Potato, Meat One, The News, among many others.
A Statement on the Exhibition: Twelfth Paper on Modern Art
Imran Mirs Twelfth Paper on Modern Art executed between December 2013 and February 2014, consists of 28 paintings and 8 installations. The works are an interesting mix of his usual trajectory of color explorations and intense black and white discoveries. They are implemented with the precision that has always been a trademark of Imran Mirs technique, evident even in his large-scale pieces.
The installations that accompany these paintings are a natural outcome of the geometries that Imran Mir expresses in his two-dimensional works. Some installations are a series of ready-mades that he then re-contextualizes.
Imran Mis paintings are conflations of expansive spatial color fields containing cosmic objects executed with the repetition and meticulousness often found in Islamic geometrical patterns, paradoxically coupled with the freedoms of American expressionism. Mir toys with all the metaphysical and ontological concepts that he was concerned with and could not express in his commercial output. There is a playful charm in his work that alludes to the childlike exploration of truth. The controlled chaos of his immense canvases is indicative of the lens through which he viewed the universe, the world and his life. He seized the liminal spaces and painted them, lived them.
-Written by Nafisa Rizvi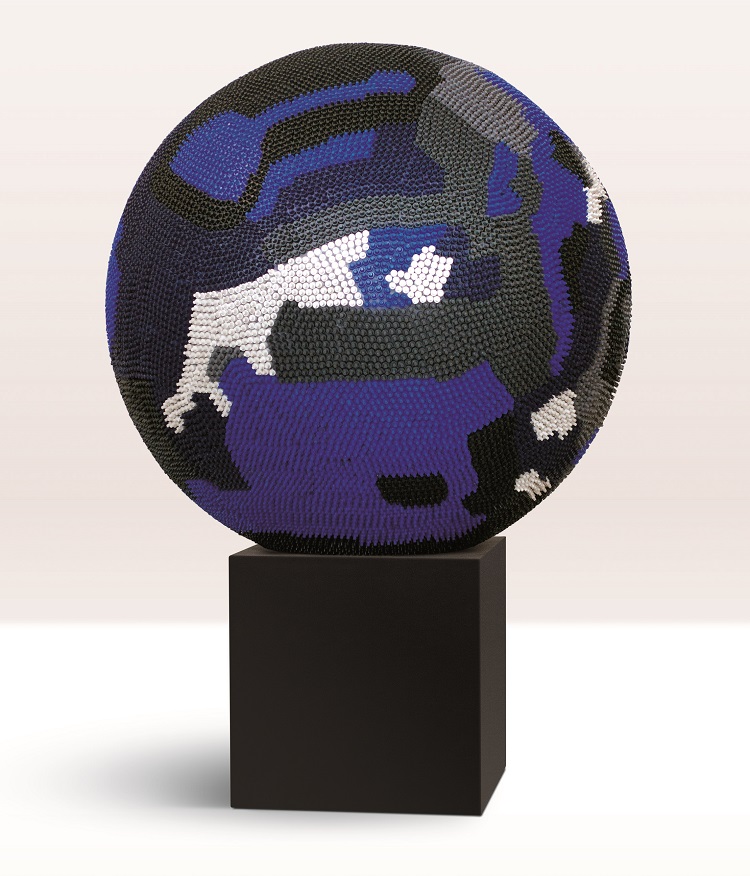 Installation no. 10. Fiber glass sphere with 33,930 eye droppers Karachi, 2014
Quotes from the Book
"The controlled chaos of his immense canvases was indicative of the lens through which he viewed the universe, the world, and his life."
Newsline, November 2014
Imran Mirs efforts seem to go beyond the purely abstract, rational and the visual, and allow the artist in him to constructively engage the era of supersession of the visual culture.
-Hassan Jaferey
It was his unique aesthetic sense that drew me and many others towards him and his art. In the personality of Imran Mir, one could not detach life from art both perceived and pursued with the same level of intensity. -Quddus Mirza, The News on Sunday, November 9, 2014
Referencing imagery related to industrial design, Mirs repertoire concentrated mainly on emphatic graphics to define his thrust. His ability to humanise the abstract forces of technology, to endow poise and grace to rigid stolid configurations, could be the challenge he grappled within his art. A reappraisal of Mirs art may well accord this Modernist his due standing in the history of Modernism in Pakistani art.
– Salwat Ali, Dawn, November 9, 2014
Key Authors and Contributors
Noorjehan Bilgrami: Author, artist, textile designer, curator and gallerist
Rashid Arshed: Established artist and former Principal CIAC
Rasheed Araeen: Britains first minimalist installation artist and renowned art historian
David Robson: Writer and Professor of Architecture at Brighton University
Late Hasan Jaferey: An informed, well-read and endearing individual
Zohra Yusuf: Journalist and Chairperson of The Human Rights Foundation of Pakistan
C. Anjalendran: World famous architect from Sri Lanka
Durriya Kazi: Sculptor, Head of Department of Visual Studies of University of Karachi
Iqbal Geofrey: Established artist and senior practicing lawyer
Late Ali Imam: Famous artist, gallerist and former principal of CIAC
Nighat Mir: Author, editor and social activist
Nafisa Rizvi: Author, Editor, Art writer and independent curator
Text and images courtesy of the artist.