Sameera Raja of Canvas Gallery Curates the Art Section of Magnum Chocolate Party 2016
After graduating from NCA as an architect, Sameera worked in the art industry in various capacities and eventually opened up Canvas Art Gallery in 1999 that has now become a hallmark for both budding and established artists all over Pakistan. Sameera is easily the most sought after art curator of Pakistan.  Having collaborated with shows in USA, UK and Middle East , Sameera is known for exhibiting much sought Pakistani contemporary art. She is known to have a philosophy of treating art more than just a piece of décor that compliments your furniture or an investment, instead she believes that each art piece created is a testimony of its time and has the power to transform's people's understanding of life. Hence, the very foundation of her work extends much further than just a commercial business. This approach has helped Sameera in defining and shaping the map of contemporary art in Pakistan.
When asked about her role as the curator of the Magnum Chocolate Party this year she showed a lot of excitement because she felt that it will be a new opportunity for the Pakistani market to explore one of the most engaging and thought provoking art movements of all time: Surrealism.  Surrealism was an art movement that began in the 1920s and revolved around the idea of exploring the creative potential of the subconscious mind. Hence, any artwork that consists mainly an arrangement of juxtaposition of images, is considered surreal. The world of surrealism is one where the boundaries of reality are pushed. One of the most famous patrons of this movement was Salvador Dali.
This year the Magnum Chocolate Party aims to curate a relationship between art and fashion through chocolate. The collaboration is being curated by Sameera herself who will be displaying the works of multiple artists at the event taking inspiration from Surrealism and specifically Dali. While the entire event is one that will comprise of multiple elements to form the surrealism factor, Sameera talks to us about the kind of work and artists that she is engaging for this rather daring and unconventional collaboration.
"In Pakistan, the contemporary miniature movement was the one that really put us on the world map," explains Raja, talking about the reinterpretation of the Mughal school of painting"but since then it's been all about "New Media."" Some of the most prolific artists of this generation are those who have chosen to take the digital route when it comes to expression through art. New media is a genre that includes artwork created using technology, such as digital art and design, the use of video, 3d graphics and video games. While many of us may have heard of Rashid Rana and his works, we are largely unfamiliar with a new wave of artists creating masterpieces with technology. Here, Raja introduces us to four artists whose works will be on display at the Magnum Chocolate Party this month:
Aamir Habib: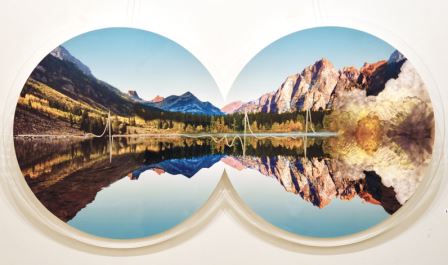 Aamir Habib is from a small town in Khyber Pakhtunkhwa called Kohat. This Indus Valley School of art and Architecture alum uses fiberglass, metal, acrylic and other mediums to give expression to controversial socio-political themes including cultural misnomers, social contradictions and political chaos.
Ahsan Javaid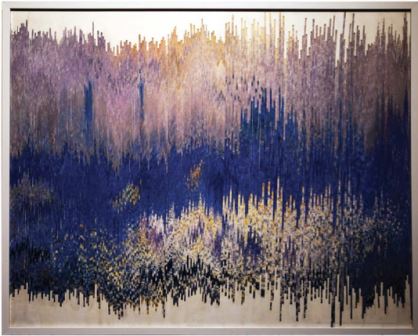 Renarrating Monet, collage with photoprint
Javaid's work plays with information and it's delivery. His art is inspired by the understanding that media delivers us information through cropped messages, and so his practice deals with the idea of cropping information in a way that generates a completely new meaning, which is unintended.
Arslan Faruqi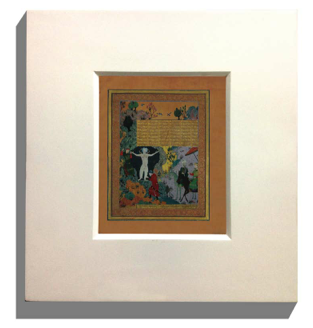 The crucifixion, video animation
Faruqi converts Persian miniature paintings into a series of digital animation. "The gestures and looks of the characters can be surreal and bewitched, and this aspect is part of my imagination, slightly creepy and restless, a feeling that shines through in all of my work," says Faruqi, " but my intent was first to convey the emotions you feel when you find yourself in front of the masterpieces of Miniature paintings."
Hamid Hanbhi
Hanbhi works with images from movies and freezes the moving image into one frame, re-narrating the story on his own terms. "My image making practice revolves around the idea of freezing a moment into a film and generating a new meaning out of it."
*Raja has previously worked with fashion collaborations where we have experienced an exhibit of fashion accessories at the Canvas Gallery as she strongly believes that on many levels, fashion too becomes art and this atmosphere of fusion between various disciplines helps in further expanding the boundaries of art.